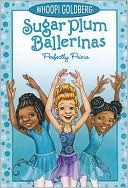 Sugar Plum Ballerinas #3: Perfectly Prima
by Whoopi Goldberg
Hyperion Book CH; $4.99
160 pp.; ISBN-13: 978-0786852628
Review by S. Spangler (age 10)
Synopsis: Jerzey Mae is perfect at everything. Well, almost everything. She is HORRIBLE at her ballet classes. When the triplets' mother starts to work overtime, their little brother Mason starts to go to their ballet classes. Jerzey, her sisters JoAnn and Jessica, and her friends the Sugar Plum Ballerinas are afraid Mason will cause trouble when he is with them. When they start to learn their Thanksgiving dance, Jerzey is awful at the dance. When her friends and sisters laugh at her, she doesn't ask them for help. She decides to do it herself. At the most important time, she gets help from the least expected person.
Opinion: This book was very funny! Any young girl (or boy) who dances will love this book! This would be a good present for a "Good luck" at your recital, rehearsal, or first ballet class. It would be a great morale booster. There is a glossary in the very end of the book for words young readers don't understand. It also talks about marriage and being "in love", so I think the age range for this book should be 9-12. I think parents would like this book, too!
My Rating:
Mom's Opinion: As a parent I thoroughly enjoyed Perfectly Prima. As the third book in the series, it's nice to see how the friendship of the Sugar Plum Ballerinas has evolved. Not only are the girls friends, but the parents and siblings interact. I liked that Jerzey Mae decides to stick it out. I also like that she teams with an unlikely partner and through this partnership a stronger bond develops. The relationship between family, friendship and community is quite strong in the Sugar Plum Ballerinas books and I commend Ms. Goldberg for that. Lessons are learned, wrongs are righted, but realism prevails.
Perfectly Prima was entertaining. Anyone who is rhythmically challenged can probably wholehearted relate to Jerzey Mae's dilemma and feel for her as she decides to resolve it on her own. For any child who has contemplated quitting, has siblings who are better at certain tasks that they are, or who may need a reminder about appreciation, Perfectly Prima may be just the ticket!
Mom's Rating: